'Tis the season for one of the Southwest's most-anticipated flavors to return to the forefront of kitchens and restaurants alike, and we have to say … we're pretty excited.

That's right, it's Hatch chile season.

For those of you who are unfamiliar with Hatch chile, they are directly related to Anaheim peppers, but instead are grown in New Mexico's Hatch Valley. Some are mild, with heat levels similar to Anaheim or poblano peppers, but others can be as hot as their smaller serrano counterparts.



Hatch aficionados believe the New Mexico soil and climate cause these peppers to be more flavorful and spicier than the widely distributed Anaheim peppers. Unlike Anaheim peppers, Hatch chile have one growing season per year and are harvested each August and September.



These spicy, versatile peppers are essentially treated like their own food group in Texas, and what better way to celebrate their existence than an entire festival?

From August 9 to 22,  Central Market's 22nd-Annual Hatch Chile Festival will transform each location into a "Land of EnHATCHment," where you can find an extensive roundup of pre-packaged Hatch products and fresh Hatch fare. This year, the lineup includes Hatch dark chocolate, Hatch popcorn, Hatch beer, and Absinthe & Hatch salami.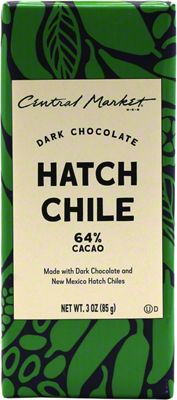 Photo courtesy of Central Market
Take a trip to the bakery for items such as cheddar Hatch pepper bread or Hatch sourdough, or visit the deli counter to snag some Hatch tamales, Hatch crab cakes, and Hatch-stuffed chicken breasts.

In celebration of the return of the Hatch chile, below are some tips from our friends at Central Market on how to pick, roast and store your chiles.



Photo courtesy of Central Market

How to Roast & Store Hatch Chiles
By: Central Market

*We recommend that you wear gloves while working with Hatch Chiles.

You can roast chiles either over a grill or in your broiler oven. Be sure to puncture the skin with a fork or knife before roasting to a golden brown on both sides.

Oven-roasted chile is as close to flame-roasted as you can get. Preheat your oven to 425°. Place chiles in oven for 15-20 minutes until soft. When roasted, the chile skins will begin to blister. Allow peppers to "sweat" a while before you peel them to use in a recipe.

Then peel the skin and serve, or add to your favorite recipe.

If you are going to freeze your roasted Hatch peppers, allow to cool completely. We recommend leaving skins on and seeds and veins intact. So much of the pepper flavor is in the skins and seeds, so leaving this on should give you a more flavorful pepper after thawing. Simply slip 4 to 5 whole peppers into a freezer ziplock baggie, squeezing the excess air out as you zip the bag shut. These can be stored in your freezer to use all year long, until the next Hatch season rolls around.

It's easy to peel your roasted Hatch peppers by laying the whole pepper flat on a cutting board. Holding the stem with one hand and running the sharp edge of a knife across the skin will scrape the charred skin right off.

Note: Some folks like to skin (and even chop) their peppers prior to freezing. They say that it makes it easier and quicker to add to recipes.

—-

This year, we had the pleasure of visiting Central Market to taste some recipes in which you can utilize these potent peppers.




Hatch Pepper Simple Syrup

Ingredients:
*8 Hatch peppers, chopped with seeds removed
*1 1/4 cup granulated sugar
*1 cup water

Directions: In a large saucepan, dissolve 1 cup sugar in 1 cup water over medium heat. When sugar is dissolved, bring to medium-high heat and add Hatch peppers. After 3 to 5 minutes (peppers should be flexible but not soft), remove from heat and steep for 10 to 15 minutes. Strain peppers, reserving liquid as the syrup.

Hatch Pepper Sweet Tea

Ingredients:
*1/2 liter strong black tea
*1/4 to 1/2 cup Hatch pepper simple syrup
*Juice of two lemons
*1 bunch mint, lightly crushed
*Sugar, to taste
*Iced water


Directions: In a large pitcher, combine 1/4 cup Hatch simple syrup with tea — stir to mix thoroughly. Add lemon juice and mint, then add iced water to desired strength. Use additional Hatch syrup and sugar to reach desired heat and sweetness. Serve with a garnish of mint and lemon.