By: Hannah Young

Give your kitchen a detox and declutter with some ideas that can be implemented annually, as well as habits that will help you out every day.



1. Clear your surfaces. Move everything off of your countertops and give them a thorough clean — then step back and enjoy the result. With this in mind, clean each item you've removed and think carefully about whether it deserves a place on display. Ideally, you will put back only items that are used on a daily basis.



2. Banish the paper. Do you struggle to find your bar counter when it's time for before-dinner drinks? The mail, newspapers and magazines often land on the nearest flat surface and clutter up the space. A good solution is to hang magazine racks on a wall or to install a small basket nearby to keep everything contained. Try to book a weekly date in your calendar to sort, discard and respond.

3. Investigate the depths. Do you know what's in your fridge and freezer, and how long it has been there? How about making this the year you use up all that extra food? Get into the habit of checking what you already have before you put together a meal plan for the week. Then, when you go shopping, you'll know exactly what you need and be less likely to buy on impulse.

4. Give it away. Let's be honest: Most of us have received a gift or two that we don't really want. If it's a seasonal item of food or drink, avoid letting it hang around and go stale, and instead give it to someone who will appreciate it more. Don't be shy about regifting, as long as you make sure it's into a different circle of friends!

5. Do the dishes daily. The humble dishwasher can make or break your day. Get into the habit of fully loading it in the evening and running it overnight. In the morning, you'll be ready to go, as clean bowls and spoons can be put right on the table for breakfast.

Allocate cabinets near the dishwasher for dishes and glasses so that it's easy to put everything away quickly. By clearing the dishwasher in the morning, you'll have an empty area in which to put everything as you use it, ready for the next evening cycle.



6. Plan a place for everything. This kitchen is pretty extreme in its stark lack of clutter, but there's a lot to be said for precise planning when thinking about new cabinets. If you have a home for everything in a drawer or pullout, then there's really no reason to leave much on the counter. Flat fronts and no handles also make this kitchen pretty quick to clean.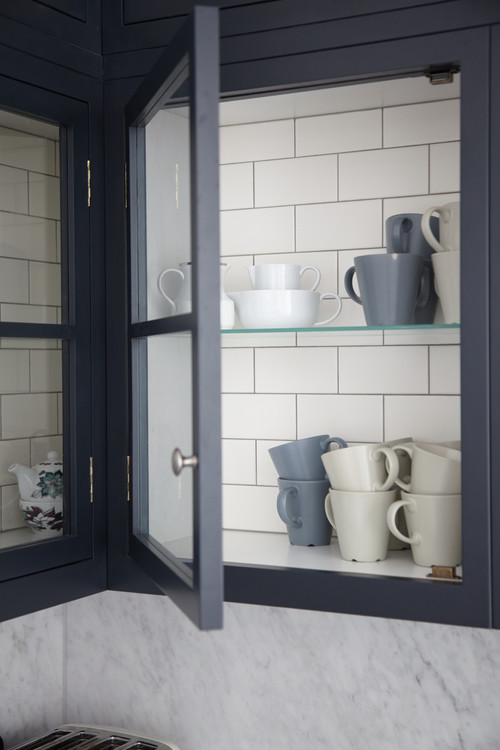 7. Make use of glass. Open shelves look great in a kitchen — it's nice both aesthetically and practically to be able to see what you have. However, many people are put off by the dust and grease floating around. So why not consider installing cabinets with glass doors to give you the best of both worlds? This may even inspire you to declutter so that you can display the mugs and plates you love in a pleasing way, rather than cramming everything in.



8. Let it go. How many mugs do you have? If, like most of us, you have more than you'll use at any one time, give yourself permission to get rid of some. It's easy to fall into the trap of hanging on to an item too long just because it has become part of the kitchen.

Try to be objective as you look through your collections and send those you don't need, don't like or think are unsuitable to your local thrift shop. If you're having trouble doing it on your own, enlist the help of a friend or find a professional.



9. Dig out the gadgets. Now is a great time to inspect those kitchen appliances lurking at the back of your cabinets and drawers. If you don't think you're going to use one, send it to a thrift shop or sell it on websites like eBay and Craigslist.

Gadgets you want to keep should be easy to access, so find a place for them on the counter or consider some nifty storage solutions. An appliance garage with outlets will keep things neatly behind closed doors and ready to go when needed.


10. Organize your cabinets. A top organizing tip for any space is to keep similar items in the same place. Arrange your pantry cabinets so that you have savory items (canned goods, pasta, grains) in one and sweet items (baking ingredients, cookies) in another. Maximize storage by outfitting cabinets with small shelves for items such as spices, and using shallow drawers or containers that can be pulled out from the back of deep cabinets.

11. Store items next to their point of use. Keep things where you use them. Think about all the items you require for a task. If you're making a cup of tea, for example, how far do you move around your kitchen to gather together a mug, teabag, kettle, milk and teaspoon?

Try to think of your kitchen layout in terms of "stations" where you complete different tasks, then store the relevant items near each one. You're more likely to put things away — and less likely to drop them — if they're nearby.


Related Links:
Get Your Countertops Sparkling Clean
Bring a Small Mailbox Indoors to Organize Your Papers
Start Organizing Your Kitchen Cabinets Today