For most people, just the thought of moving from a larger home to a smaller one can be overwhelming. Since most of us don't have a lot of experience in this area, we can be at a loss as to where to begin. In addition, sifting through a lifetime of possessions can be emotionally taxing as we decide what will fit into our new space. But we have help. Read on for a big-picture snapshot of what's involved in downsizing your home for a move, as our guide goes over the major points.


1. Deciding what to pack, donate, sell or toss. This is by far the hardest part of downsizing. Depending on your energy level, the size of your home, the number of possessions you have and how quickly you make decisions, you might want to start this process six months to a year before you plan to move.

Many of us have accumulated a lifetime of things that we don't know what to do with. You may want to enlist the help of a family member, friend or professional home organizer to keep you focused and motivated. Another set of eyes can help you decide what you truly need and what you can let go.

Some people work better if they make decisions based on categories, such as clothes, books or household items. Others like to tackle the job one room at a time. Whichever method works for you, try to give yourself plenty of time for this project.

2. Giving items to family and friends. When deciding what you want to give to family and friends, check with them first to make sure they really want them. Then arrange a time a few months before moving day to remove the items from your home so you have less to contend with. Resist the urge to gift items to someone who doesn't truly want them. This will just cause problems for them down the road when they downsize their own homes.

3. Holding a yard sale or alternative. Although many of my clients enlist the services of an estate sale company after the moving van has come and gone, some like to try to sell items themselves before they move. This can be a lot of work, but it may be worthwhile for some folks who don't want to pay an estate sale company. If this is the case for you, plan to hold your sale a few months before you move. Here are a few things to consider as you decide whether a yard sale is right for you:

• You might make a bigger profit if an experienced estate sale agent handles the sale for you.

• Watching your beloved possessions sell for pennies on the dollar at a yard sale can be emotionally trying.

• A yard sale can be a lot of work. You'll need to advertise the sale, price items, haul everything out to the yard and sit outside for hours while people haggle over your belongings.

• You might make more money by taking the tax deduction associated with donating the items to charity.

• If you live in an area with unpredictable weather, an unexpected rainstorm might keep shoppers away and potentially ruin some of your belongings.

• If you live off the beaten path and don't have a lot of traffic flow in your area, you might not make much money.

As an alternative, one of my clients invited neighbors and friends over on a particular day to select books, furniture and household items they might want or need. In exchange, they made a charitable donation to the Parkinson's Disease Foundation. I thought this was a touching idea that left everyone feeling good about the transaction.

4. Scheduling a donation pickup. Many charities will send a truck to gather items curbside, but keep in mind that not all will accept furniture. Before you drag an unneeded sofa to the street, consider researching charities in your area that actually pick up furniture. Also, double-check to make sure the donation to your favorite organization is tax-deductible — and always ask for a receipt.
5. Dealing with trash. Unfortunately, the landfill may be the only option for items you can't give away, sell or donate — items that are stained, worn-out or broken beyond repair. Please consider the landfill only as a last resort, exclusively for items that have reached the end of their useful life.

Many local disposal service companies will provide a small dumpster annually at no added cost, while a large dumpster is an additional expense. Check with your local service. Alternatively, a hauling service can be hired to take items to the dump.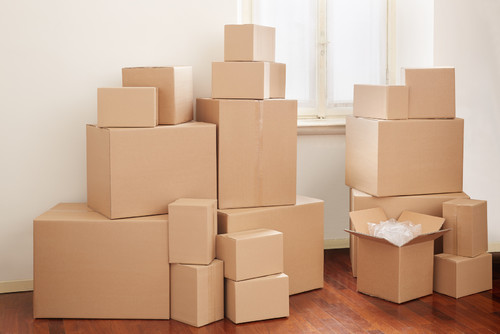 6. Packing for your move. Ideally, once you've reached this point, you're left only with the things you're packing or selling at an estate sale. Consider marking all estate sale items with blue tape so there's no confusion when the movers arrive.

Many professional home organizers provide packing services. If your budget allows this option, it will save you significant time. If you're packing yourself, consider starting to pack nonessential items like home decor, books and craft supplies four to six weeks before moving day, depending on your energy level and volume of belongings. Label boxes by room and briefly list their contents. That way, the movers can easily deliver boxes to the appropriate rooms in your new home.

Some of my clients have the option of staying in a hotel or with friends or family for a few nights before the move, while their kitchen, bathroom and laundry supplies are being packed. This can eliminate a lot of confusion. If you don't have this luxury, you might consider eating out or using disposable plates and utensils for a few days so all of your kitchen items can be packed.

7. Packing your suitcases. A few days before the movers arrive, I recommend packing a suitcase for yourself and each family member, as if you were going on a trip. Your bags should contain toiletries, medications and clothing for approximately a week. Plan to live out of this suitcase for a few days before and after the move.

8. Getting through moving day. This is the day the van arrives and moves your possessions — hopefully now packed and labeled — to your new home. It might be a good idea to have a close friend, family member or professional organizer with you to help keep things running smoothly and provide an extra set of hands. If you're moving locally, you may want to have a friend help you unpack a few boxes of essential kitchen items and linens in your new home before the movers arrive. This can help you feel less overwhelmed when the unopened boxes get there.

9. Having an estate sale. After your house has been vacated, consider scheduling an estate sale. Your real estate agent will likely be able to recommend a reputable company in your area. Fees can range from 20 percent to 45 percent of the proceeds, depending on the services provided. The cost will most likely include taking inventory of items, organizing, staging, researching prices, advertising, marketing and holding the sale.

After the sale is over, most companies will get rid of unsold goods for you. Many partner with a local charity to clear out items appropriate for donation, and some also arrange trash-hauling services for an additional charge.

After the sale, your old home should be free of unwanted belongings and debris. Before you sign a contract, carefully read the scope of work so you know exactly what to expect. The lowest bid may not in fact be the best deal, so be sure to review the details. Although the fee may be daunting, an estate sale company can save you time and effort and potentially net you a bigger profit than selling your belongings yourself would.

Related Links: