By: Susan C. Kim

A real estate slump is a real drag, especially if you're trying to sell your abode. So stage your pad to beat out the competition and draw in more prospective buyers. Most buyers have a hard time looking past pink walls and green shag carpet, so do the legwork for them and present their "new home" on a silver platter. If done smartly, the money spent staging will be made up tenfold in the house sale — and you keep all the hot accessories for yourself afterwards (or unload them on Craigslist).

Here are some tips I used when staging my San Francisco condo. This unit sold within a month and a half for just below asking price. The exact same (un-staged) unit, located one floor down, never even got an offer. So there you have it.


1. Clear it all out. Move every single thing out of your place. That goes for your beloved troll doll collection, leopard skin rug, and the couch your mom claims you were born on. As sentimental as these things might seem to you, buyers want to be able to imagine themselves in your space; seeing clothes in the closet, family photos, and random tchotchkes prevents them from doing so. Then place back in only necessary furniture, keeping in mind that you want the space to look big, clean, spacious, and uncluttered. This isn't supposed to be a functional room. Nope. As I did in this living area, you can lose the TV, stereo, side tables, and ottomans if it creates more room.


5. Play with texture. Wallpaper, pillows, rugs, blankets, baskets, and other tactile accessories can play up texture in a room. It's an easy way for anyone, even my colorblind husband, to add warmth to a blah room. Try grass cloth wallpaper on plain walls that need a little oomph, such as in this master bedroom, where buyers expect to see a little more luxury and style.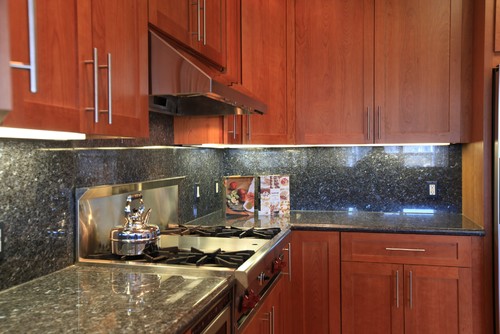 6. Smart accessories. I cleared this kitchen counter of appliances, spice racks, towels, and cooking utensils and left only a few things: a couple of cookbooks and a shiny tea kettle. Random? Not at all. The gourmet cookbooks give the impression that this kitchen is built for serious cooking. It's called "branding" — and it's what advertisers bombard you with every day. You're advertising your home, so buyers need not know that your cooking skills are actually a fire hazard to your own kitchen. The cookbooks here say culinary creations might have been whipped up here.


7. Small furniture, big space. It's the trick of the trade: downsize your furnishings to upsize the room. Here, I got rid of the king-size bed, two nightstands, a dresser, and a bookcase; can you imagine what this room looked like with all that stuff crammed in there? I replaced it with a queen-size bed, a mirror, and two tiny lamps placed on footstools. That's it. The one thing I regret is not ironing those sheets very well; it would have looked so much neater.

8. Create vignettes. Set up little scenes that help buyers visualize their potential life in this home. For the nursery, I wanted the buyer to walk in and say, "How lovely, I could totally see my future baby sitting in that chair nicely reading a book." Now, if I can just get my own baby to do that….


9. Don't forget the outdoor areas. Those spaces add as much interest for the buyer as the interior rooms. For this unsightly roof deck, I added inexpensive bamboo sheeting to the rail, an outdoor rug, small table and bistro chairs, and a few plants. Now the buyers will see this formerly blank space as an additional living area. Bonus.


10. White is nice. When in doubt, use white in the bathroom. It spells clean, and that's what buyers want in a bathroom. Plus, it matches the toilet. (Note the absence of bath rugs, toothbrushes, and fuzzy toilet covers).
For more tips on organizing or selling your home, check out these other Houzz articles: