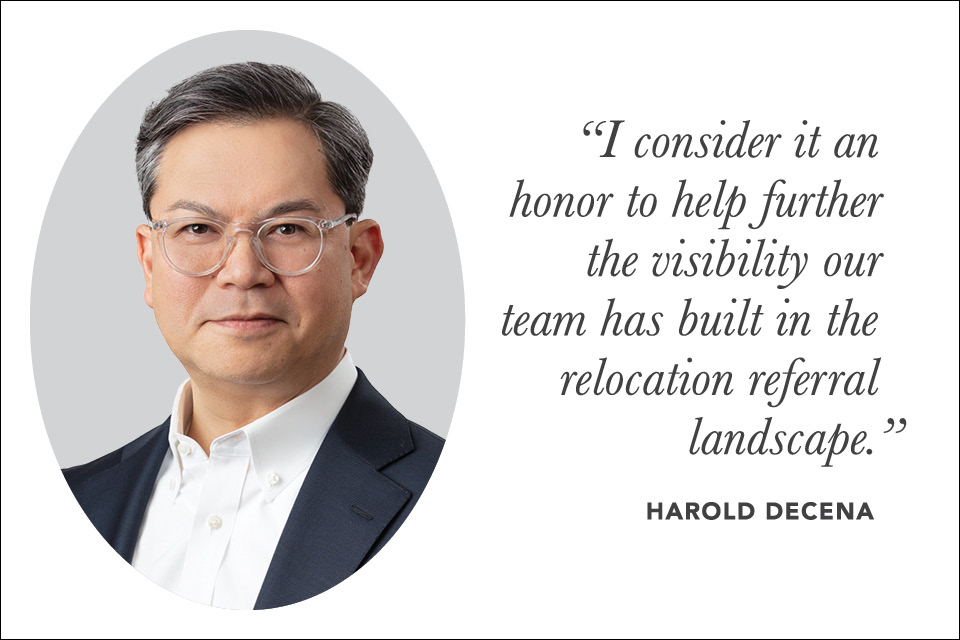 Harold Decena has been named Vice President of Corporate Real Estate Services for the Ebby Halliday Companies. Chris Kelly, president and chief executive officer of the Ebby Halliday Companies, and Betsy Cameron, vice president of business initiatives, recently made the announcement.
"Harold is a widely admired veteran of the relocation services industry," Kelly said. "Having led relocation departments at two firms, as well as having effectively served the Ebby Halliday Companies for the past several years in a relocation-services management capacity, Harold is the perfect person to succeed Karen Greene, one of the industry's most-admired professionals."
Greene, who recently announced her intention to retire at the end of June, has been a relocation director in North Texas for 35 years. Having long planned to retire in 2020, she has mentored Decena with the goal of a seamless transition in mind.
Greene says that among the things she has most enjoyed about working at the Ebby Halliday Companies are the respect the iconic brand commands nationwide and its long-established relocation department.
"I also enjoyed that every day was different," Greene says. "In the relocation business, you deal with human beings and a very important part of their lives – their homes. I loved working our agents and the years flew by for me."
Decena will lead one of the nation's most-respected and largest in-house Relocation Departments.
"I'm excited to be associated with a company that has deeply established roots," Decena says. "I consider it an honor to help further the visibility Karen and our team have built in the relocation referral landscape.
"My intention is to build on the success she has established and to further our local and national reputation as a department that helps make relocation a seamless experience for clients," he says. "I want our clients to have an exceptional experience, but I also want our agents to have a great one. We are so fortunate to have an amazing team of agents at the Ebby Halliday Companies."
Decena, a licensed real estate agent who also holds the Certified Relocation Professional designation from the Worldwide Employee Relocation Council, will lead a department of eight relocation professionals who are known nationwide for their ability to facilitate the real estate referral process – both incoming and outgoing.
"My leadership style is performance and data driven – it's all about the results," Decena says. "I want every member of our department to have the tools necessary to succeed. I genuinely want to help each team member achieve his or her goals. I see myself as their partner in achieving success. At the end of the day, it's about providing an exceptional real estate experience while continuing to build a respected department and collaborative relationships with our agents and sales leaders."
For more information on the Ebby Halliday Companies' corporate real estate services, visit the award-winning ebby.com. To contact Harold Decena, call 972-980-6637 or email harold@ebby.com.
Celebrating its 75th anniversary of serving the real estate needs of North Texas in 2020, the Ebby Halliday Companies are the No. 1 residential real estate firm in Texas by sales volume. In addition to its three real estate brands, Ebby's Core Services companies include Prosperity Mortgage, Home Team Insurance, Texas Premier Title and HSTX Title. The Ebby Halliday Companies were acquired by HomeServices of America, a Berkshire Hathaway affiliate and the country's largest residential real estate company based on transactions, in 2018. For more information, visit ebby.com, daveperrymiller.com and williamstrew.com.